8, Nov 2023
India, 8th November 2023: The grand finale of the highly anticipated 'Radio City Super Singer' (RCSS) Season 15 was a resounding success, celebrating the incredible journey of musical talent. Multiple grand finales were held across different cities for every season, each featuring its own distinguished celebrity judge. Season 15 was hosted by the charismatic RJs and various celebs were roped in, who added an extra layer of entertainment to the spectacle.
With a staggering 4.64 lakh registrations, RCSS exceeded all expectations and solidified its place as the most sought-after singing talent hunt in the nation. The season witnessed an astounding number of aspiring singers, all vying for the coveted title and the opportunity to showcase their unique musical talents to the world.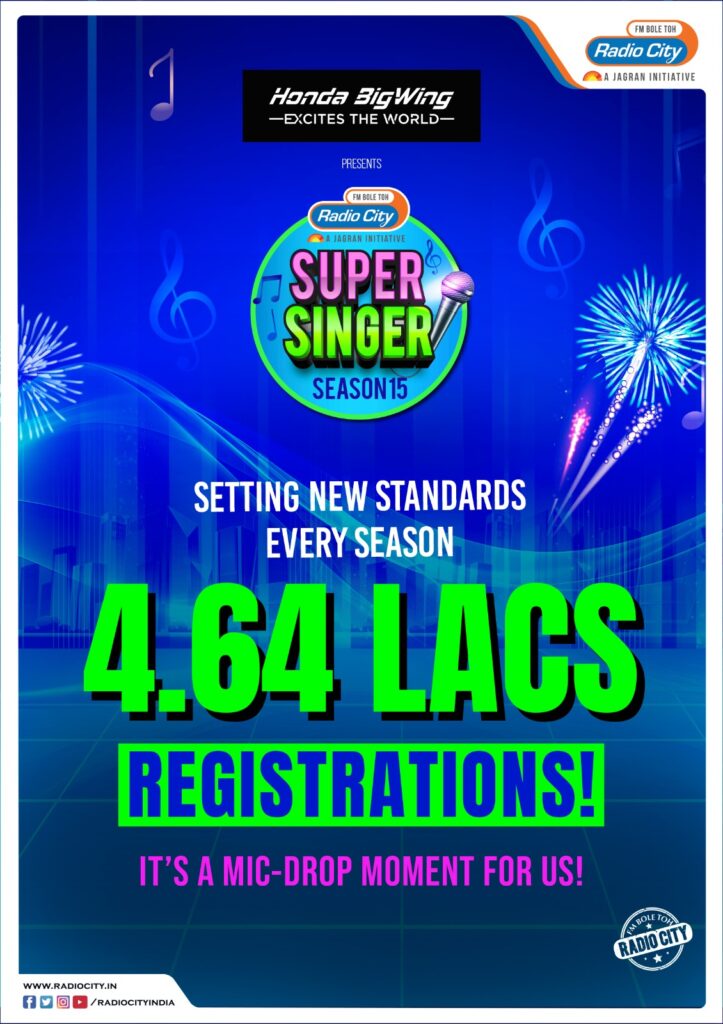 What made this event even more exciting was the esteemed presence of celebrity judges to begin with Akasa Singh in Mumbai known for her unique and soulful voice. And many other judges, including Pandit Abhishek Mishra from Patna, Punjab's Master Saleem, Monika Mundu from the East, and Simran Choudhary from Delhi. Moreover, there were incredible judges from the South such as Hisham Abdul Wahab, Supriya Lohit, Poornachandra Tejaswi, Girish Gopalakrishnan, and Niwas Prasanna which further elevated the excitement and glamour of the event.
RCSS is a comprehensive and multi-faceted platform, encompassing on-air, on-ground, and digital components. It stands as one of the most significant properties for Radio City, providing immense importance and achieving an extraordinarily influential reach with a comprehensive 360-degree view through its holistic approach.
Ashit Kukian, Chief Executive Officer, of Radio City, expressed his excitement about the event, saying, "Radio City Super Singer (RCSS) has always been about celebrating and nurturing musical talent. We were thrilled to see the overwhelming response we received, with a record-breaking 4.64 lakh registrations. It truly reflected the enthusiasm and passion that India has for music."

Padmashri Kailash Kher, the Grand Judge, and a longstanding association with Radio City, shared his thoughts, "RCSS is not just a talent hunt; it is an institution that contributes to musical excellence and provides a stage for aspiring talent to shine. It's grand, relevant, and truly magical in the music industry. Being associated with Radio City for many years, I have witnessed the immense impact RCSS has had on the lives of budding singers."