18, Oct 2023
Dusaan announces exclusive offer for all customers this festive season
New Delhi, 18th October 2023 – Dusaan, a leading brand in home decor, luxury gifts, and lifestyle experiences, is thrilled to announce an exclusive offer for all customers. They can now enjoy fantastic freebies with every purchase on selected products, this festive season.
Dusaan is an online home decor marketplace, with premium home decor which is the ultimate destination for those who love affordable yet stylish home decor, and beautiful gift hampers at affordable prices. Dusaan seeks to reinvent the art of gift-giving with a dedication to quality, elegance, and top-notch customer service.
Products featured in this exciting deal are toran wall hangings, puja thali, candle stands, urli, dry fruit bowls, serving platters, snack bowls, vases, artificial flowers, detachable Tealight Holders, Hanging Planters, Swing Hammocks, Cushion Covers, Tray Basket Covers, Bedding sets, Artificial flower sticks, Printed Handbags and much more. This festive season whether you're looking for beautiful home decor to adorn your living spaces or a perfect gift for your loved ones, Dusaan is the place to be. A carefully chosen collection curated specially for you, which guarantees that there is something for everyone.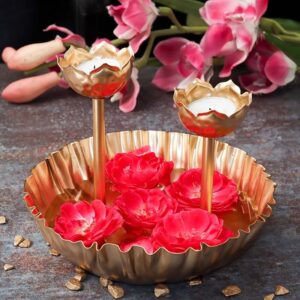 Don't miss out on this tempting offer to elevate your shopping experience with Dusaan. Now is the perfect time to make the most of your shopping budget, whether you're buying for yourself or looking for gifting options for your family and friends.
"We are thrilled to be able to provide our customers with this exclusive offer. At Dusaan, we understand how important it is to provide our customers with more value," said Simran Kohli, Founder of Dusaan. "This is just one of the many ways we want to express our gratitude to you for choosing Dusaan" she added.
For those looking for the best combination of cost, quality, and wide range when shopping, Dusaan is the place to go. With this thrilling offer, Dusaan remains the first choice for consumers.