28, Oct 2023
Marut Drones sets up new office to meet expansion plan
Hyderabad, October 28, 2023: Marut Drones, a leading drone manufacturer and service provider in India, propels its national expansion plans, signaling a renewed commitment to innovation and sustained market leadership. With India's drone sector projected to achieve a turnover of Rs 12,000-15,000 crore by 2026, Marut Drones is set to scale up its workforce, extend its market presence, and amplify its sales targets, poised to revolutionize the drone technology landscape in the country.
In tandem with its expansion strategy, Marut Drones has also unveiled a state-of-the-art 9,000 sq ft. corporate office in the heart of the city, designed to serve as a hub for innovation and collaboration. The new office is equipped with amenities to support production, technology, and research and development (R&D). The company is rapidly expanding its network of dealers, with the goal of partnering with over 100 dealers by March 2024 and aiming to reach 500 dealers by 2028. To provide exceptional customer support, Marut Drones is establishing service centers in key regions like Madhya Pradesh, Maharashtra, Andhra Pradesh, Telangana, Karnataka, and Tamil Nadu. The adoption of drone technology is still in its infancy in India, and Marut aims to expedite this process by establishing drone customer support centers, thus playing a key role in promoting drone technology. Marut's type certified drones, empaneled in with multiple government agencies, are also eligible for subsidies provided by central government and state governments.
The Company is taking decisive measures to bolster its leadership team by onboarding industry veterans. The company is on course to hire senior professionals. In line with its vision of achieving a pan-India presence, Marut Drones will extend its operations from seven states to over ten states.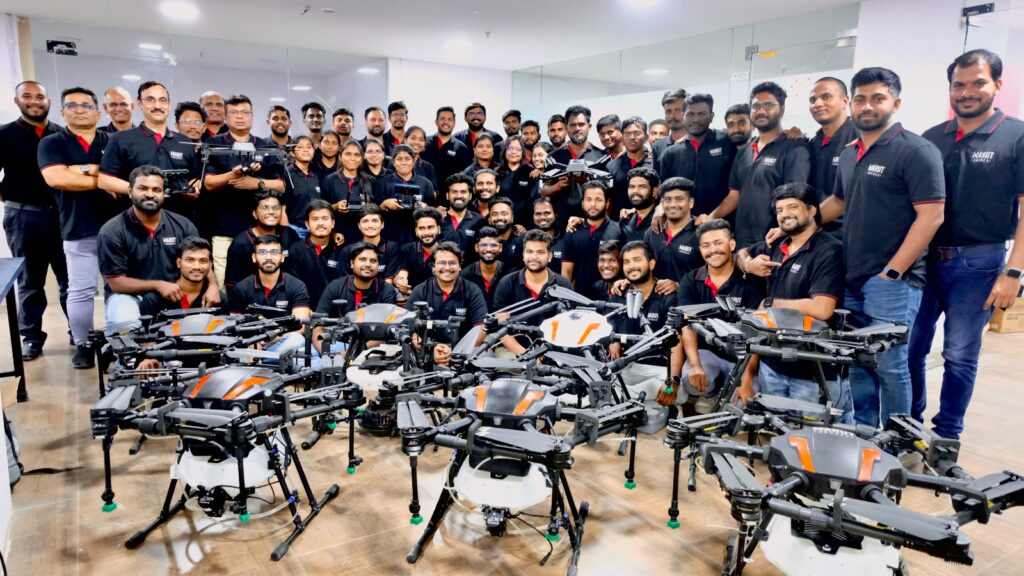 The Company has set its sights on an ambitious five-year sales target of up to 30,000 drones, in response to the surging market demand. Marut Drones is in the process of raising $4 million towards expansion of business and operations, while actively seeking investments. The focus of these investments will be towards creating agri-tech innovations, enhancing the drone lineup, extending the channel network, and expanding to new markets across India.
Prem Kumar Vislawath, CEO and Founder of Marut Drones, expressing his enthusiasm for this significant milestone, said, "As we embark on this exciting journey of expansion, we're driven by our passion for innovation and our unwavering commitment to shaping the future of drone technology. With additions to our extensive dealer network, our visionary team and dedicated partners are determined to deliver exceptional drone solutions to our customers. India's drone sector is ripe with opportunities for investments, especially given the Government's continued efforts to encourage the proliferation of Make in India drones. Marut's mission is to provide the younger generation with a 'dignity of work' and by manufacturing more Make in India drones, we aim to make India the drone hub of the world by 2030."
Marut Drones has already obtained dual certification and RPTO approvals from DGCA to facilitate training and capacity building for drone pilots in rural regions. The company's flagship model AG365 boasts an impressive endurance of 22 minutes, features high-end sensors for smooth operations, and has undergone extensive testing to ensure exceptional quality. Marut Drones has the vision to create 5 lakh drone entrepreneurs by 2030 by skilling and training drone pilots via Marut's Drone academies. Marut's Centers of Excellence will help in generating employment opportunities, especially in Tier-II and III cities.
The company attributes this growth to Marut's vision to use technology for a purpose. As the Indian drone market flourishes, Marut Drones is well-positioned to continue its upward trajectory, contributing to the nation's technological advancements and establishing itself as a serious player in the global drone ecosystem.