7, Nov 2023
Nature's groove by Leela j singh
Ashima Leena's 'Nature's grove' inspired by nature and its magnificent scintillas, is a luxury prét collection.
The palm leaf collection that Leena Singh put together features silhouettes with modern flare hems. Vivid hues, its unique silhouette, and its distinctive pattern makes it perfect for contemporary women.
The embellished blouse with the satin saree along with blue organza ruffles, has detailings that are intricate and follow garment storytelling with every bead that has been put onto it.
The gold and black satin saree is skillfully embroidered with golden borders. The transition between black and white narrates a story that aligns with the label itself. It is synonymous with Ashima Leena's metamorphosis as a label that was showcased in the LFW.
The kaftan, with a mustard and grey leaf pattern, is adorned with a detailed design that curves to the contours of the body. A surreal landscape is created for the weaver through satin, by prints created over a white canvas that is inspired by nature's bounty.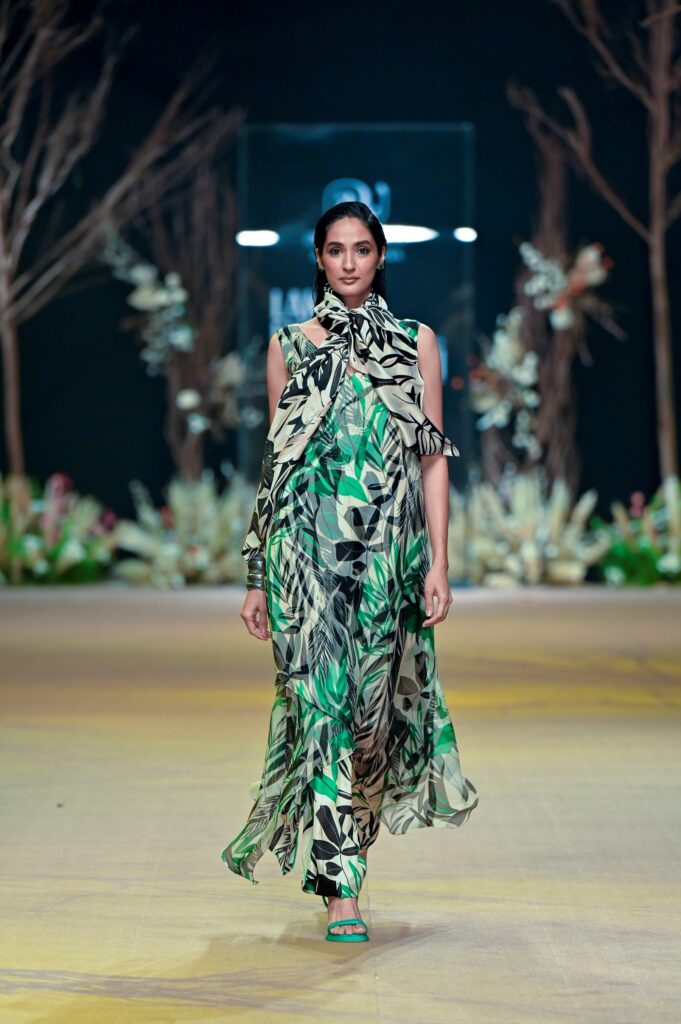 Each silhouette is crafted from the finest materials, such as heavy georgette, flowing satins, and clever use of organzas, to accentuate the wearer's beauty. It features intricate appliqué work.
Ashima Leena's 'Nature's Grove' is an ode to nature and all of its beautiful elements.
I was truly excited to be part of Lakme Fashion Week. Having participated in innumerable FDCI fashion weeks for years together, it's a great feeling to have completed the full circle after having shown in the first ever LAKME FASHION WEEK of India in 1998 as a board member of FDCI says, LeenaJ Singh