4, Nov 2023
NSDC partners HCLTech to transform job markets from qualification-based to skill-based hiring
Bengaluru, India, Nov 4, 2023: Aligned with the vision of the Hon'ble Prime Minister, Shri Narendra Modi, to empower India's youth through digital technology and Artificial Intelligence (AI), the National Skill Development Corporation (NSDC) has entered into a partnership with HCLTech to bridge the skills gap, particularly in the tech and engineering sectors. Under this collaboration, both organizations will work together to promote the adoption of technology among learners from diverse backgrounds and explore new global markets and business opportunities.
The agreement was exchanged by Ved Mani Tiwari, CEO, of NSDC, and C Vijayakumar, CEO & Managing Director, of HCLTech. This partnership comes shortly after the recent G20's Digital Economy Working Group (DEWG) meeting, which achieved consensus on deliverables in three discussion areas: Digital Skilling, Digital Economy, and Digital Public Infrastructure.
This strategic partnership will enable NSDC and HCLTech to jointly transform the assessment landscape and digital learning by introducing digital assessments in tech and non-tech-base
d courses (B2B & B2C). There is also scope for collaborating on the creation of new products and programs to enhance talent with flexibility and scale. Additionally, to ensure that every Indian has access to quality training, the focus will be on enhancing the impact of learning by jointly developing and offering industry-relevant resources and tools. Under the partnership, the vision to add a new dimension in assessment for setting standards in digital learning indicates the keenness of both organizations to provide regular check-in learning and augment access to technology.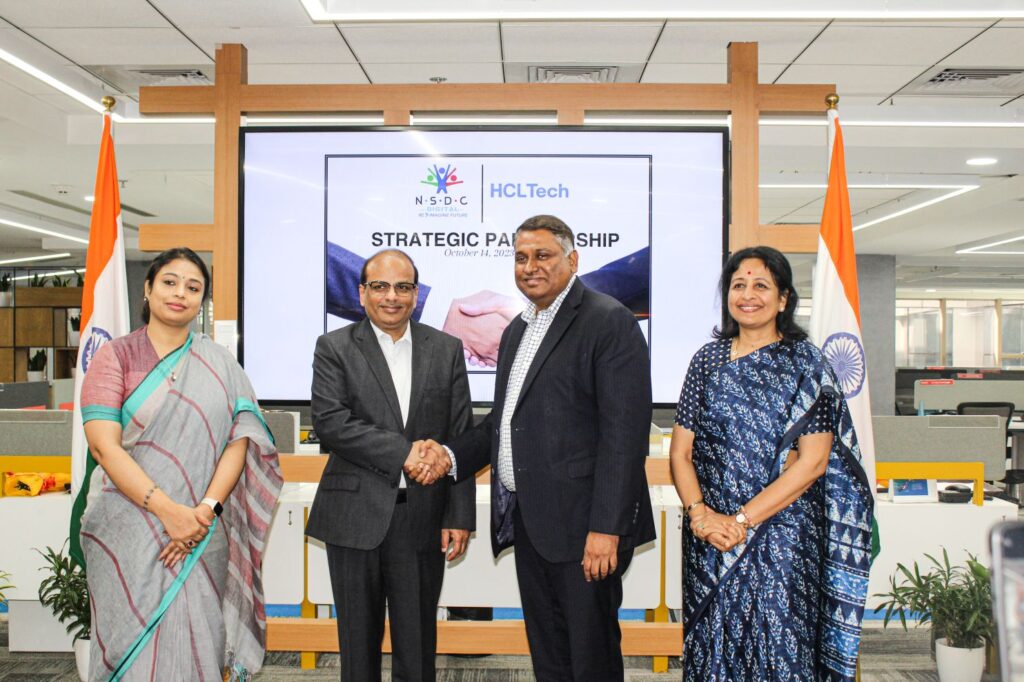 Praising this initiative, Ved Mani Tiwari, CEO, of NSDC, said, "NSDC and HCLTech are entering into this partnership with a commitment to enhance the trust in job markets. Both organizations will jointly develop an assessment platform where students and working professionals can get themselves assessed and certified for skills in demand. This is a significant step towards moving from qualification-based hiring to skill-based hiring. Both parties will also collaborate to offer reskilling, upskilling online courses to prepare for opportunities in a dynamic job market."
It is estimated that the assessments market is expected to grow to $10B+ by 2027.  North America accounted for the largest (~40%) revenue share in 2021. Europe plays a significant role in international employability and rate of employment, hence contributing to the growing share in the assessment services market. The APAC market is expected to register the fastest revenue growth during the forecast period
As part of the agreement, NSDC and HCLTech will jointly leverage each other's technical and domain expertise in the Assessment platform, Assessment & hiring test (both tech and non-tech), Smart labs (coding and data science), Learning programs, Faculty development & certification programs, and Advisory services for government and institutions.
Additionally, both parties will also collaborate in creating joint IPs for digitalizing and digitizing assessments, covering the wider landscape of skilling as well as the educational ecosystem, and engage in advisory services and positioning tech solutions.
Commenting on the occasion, Srimathi Shivashankar, Corporate Vice President and Global Head, of EdTech Business, HCLTech, said, "We are delighted to join forces with NSDC to leverage digital technologies to build a future-ready talent ecosystem for India and the rest of the world. I am confident that HCLTech's proven Career Shaper learning and assessments platforms and NSDC experience in talent and nation building can make a significant impact in how technology can be smartly used for skilling."
Under its EdTech Business, HCLTech leverages its vast experience to assist governments, enterprises, and educational institutions in establishing technology and talent skill academies through its Career Shaper learning and assessment platforms.
NSDC, operating under the aegis of the Ministry of Skill Development and Entrepreneurship, is actively advancing digital skills for India's youth by integrating technology into skill development. Online learning platforms and digital resources have been introduced, making training materials more accessible and adaptable to changing industry trends.
NSDC's digital learning initiatives collaborate with Indian and global partners, offering access to over 1.4 lakh minutes of multi-lingual digital content in various sectors. This extensive resource pool equips learners with the necessary digital skills for today's rapidly transforming world. Furthermore, NSDC's partnerships with industry leaders have resulted in industry-specific skill development programs, aligning training with industry needs and improving the quality of training while enhancing employment prospects for candidates. These collaborations bridge the gap between education and employment in the digital age, promoting India's digital skills revolution.
The recently launched Skill India Digital (SID) is one such platform that will play a pivotal role in transforming India into a thriving digital economy. This initiative coincides with the global consensus on Digital Public Infrastructures (DPI) during India's G20 presidency. The platform will also prepare the younger generation for international job opportunities, aligning with the vision of the Hon'ble Prime Minister, Shri Narendra Modi, to make India a global skill hub.