8, Nov 2023
Renewable Energy to Drive Cost Competitiveness for Industrial Consumers
Bengaluru: November 08, 2023: The Federation of Indian Chambers of Commerce and Industry (FICCI), jointly with Hero Futures Energies organized a Closed-Door Interaction on Renewable Energy Adoption by Industrial Consumers in Bengaluru. The key objective of the interaction was to showcase renewable energy solutions and technologies available for Indian industrial consumers, supporting their transition towards decarbonization and the net-zero journey.
Addressing the participants, Ms. Aparna Pavate, Additional Secretary, Energy Department, Government of Karnataka stated "Karnataka is taking pioneering steps to revolutionize the energy landscape. Karnataka Renewable Energy Policy 2022-2027 stands as a beacon of the state's commitment to a greener future targeting to strengthen power sub-stations for evacuation, develop RE ecosystem, and augment distribution networks." She also highlighted on the state initiative of developing hybrid parks which will produce a total of 5,000 MW of green energy. She further mentioned that India has made commendable progress in the renewable energy landscape, with more than 42% of current capacity built from of non-fossil energy sources.
Mr. Amarnath N, Chief Executive Officer, Karnataka Solar Power Development Corporation Ltd, Government of Karnataka mentioned that Karnataka is the pioneering state in the development of renewable energy with the policy initiative starting way back in 2009. He highlighted on the key initiatives taken in State RE Policies of 2009-14, 2014-21, and 2022-27 and stated that "appx 62% of the current power consumption in the state is from renewable sources." He further invited industry to be a part of a proposed 5GW hybrid park, comprising of wind and solar resources.
Representing the industry, Mr. Harmit Singh Sethi, Co-Chair, of the FICCI Cement Committee and Executive Director and group Head, of Corporate Affairs and incubation, Dalmia Bharat Group highlighted that while cement (and sectors like steel) are hard-to-abate sectors, but these are the key industrial sectors to drive the renewable energy adoption in the nation. He further mentioned that "with the Government's increased focus on infrastructure development and urbanization to increase from 33% to 40% by 2030, there is going to be increased demand for cement and hence an increased chance of GHG emissions.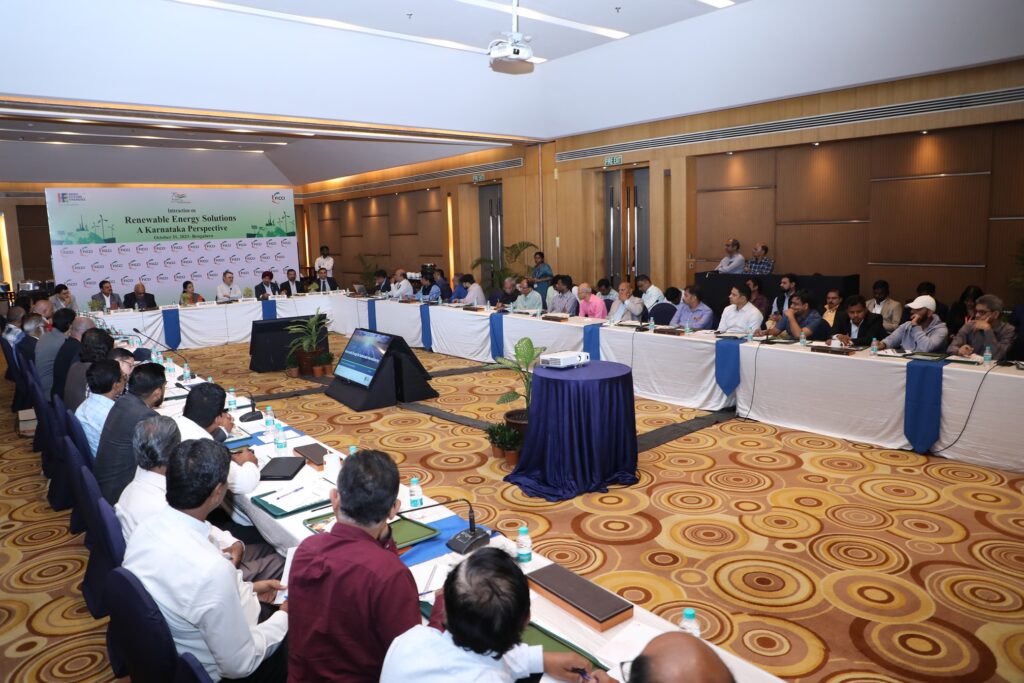 Presenting the Renewable Energy Solutions for Industrial Consumers, Mr. Animesh Sharma, Head of Business Development – India C&I, Hero Future Energies highlighted on the huge potential for Renewable Energy in the Karnataka State, focussing on solar and wind sources, robust grid mechanism, and conducive policy framework. He further mentioned on the encouraging policies of Karnataka in terms of single window clearance, 60-days approval timeline, and adoption of open access rules, among others.
Mr. Chandan Dixit, Associate Director, Deloitte India presented on the renewable energy adoption trends and developments by industrial consumers. Mr. Ramesh Chandra Lahoti, President, of Karnataka Chambers of Commerce & Industry added on the plans and initiatives of the state industrial sector for decarbonization and adoption of renewable energy.
The discussions acknowledged that many corporates and industries have already committed to adopt green energy and are looking for solutions best suited to their operations. Such FICCI platforms facilitate this interaction among the two sectors of renewable energy and industrial consumers.