16, Oct 2023
Rite Water Solutions receives investment from Incofin's Water Access Acceleration Fund (W2AF)
India, October 16, 2023: Rite Water Solutions (India) Private Limited, specializing in potable water and water quality improvement solutions receives a first-of-its-kind investment of EUR 7.5 million from Incofin Investment Management's Water Access Acceleration Fund (W2AF), a first in India as well as in the drinking water space.
Founded by Mr. Vinod Gaan, Chairman, and led by Mr. Abhijeet Gaan, MD & CEO, Rite Water focuses on providing comprehensive, cost-effective, and sustainable solutions for safe drinking water to habitations across India where water sources are chemically & biologically contaminated.
Incofin is an international Impact Investment Manager with 1.4 Billion assets under management (AUM) globally. In March 2023, Incofin launched its Water Access Acceleration Fund (W2AF) which is the first private equity fund for safe drinking water. The Water Access Acceleration Fund (W2AF) is an impact-first blended fund that invests in safe drinking water enterprises, primarily in Africa and Asia.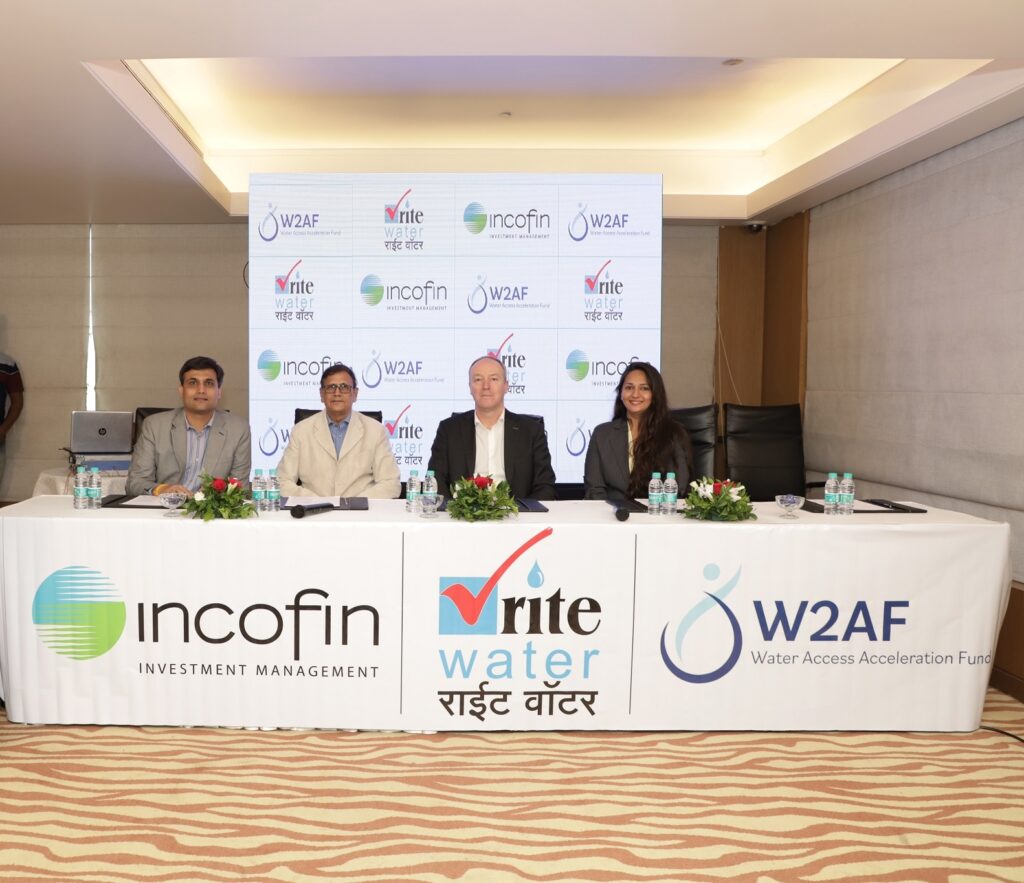 Through equity investments, the fund aims to give access to safe drinking water to 30 million people by 2030 with total commitments of EUR 36 million. W2AF's investors include Danone, BNP Paribas, the U.S. International Development Finance Corporation (DFC), the Danish development finance institution IFU, Norfund, and the U.S. Agency for International Development.
According to the World Bank, developing countries lose around 260 billion USD annually due to poor water supply. It's estimated that each dollar invested in clean water yields a four-dollar reduction in health costs. Over two billion people around the world lack access to safe drinking water and 40 percent of the world's population is affected by water scarcity.
Providing access to safe drinking water for all, is one of the most complex contemporary issues to solve, especially in a country like India. Innovative, affordable local solutions offer the best chance to solve these problems. Aligned with the Sustainable Development Goal (SDG) criteria, India has partnered with UNICEF to provide access to safe drinking water in both rural and urban areas. Some of the key initiatives are the Jal Jeevan Mission, Jal Shakti Abhiyan, AMRUT-2, Swajal Scheme, Swach Bharat Mission, 'Har Ghar Jal' initiative, WASH intervention by WHO, etc furthered by the government's thoughtful budgetary allotment each fiscal.
PwC was the exclusive financial advisor to Rite Water Solutions for its equity fundraising. PwC is a leading global network of professional services firms and one of the largest transaction advisors globally by deal volume.
For over 15 years, Rite Water has been collaborating with governments, corporations, and local authorities to extend safe drinking water access. The company has deployed over 5200 purification units and treatment plants with tailored technologies across India. The company treats more than 10 million liters of water per day thereby providing clean and safe water to over one million people across 12 states through its solutions.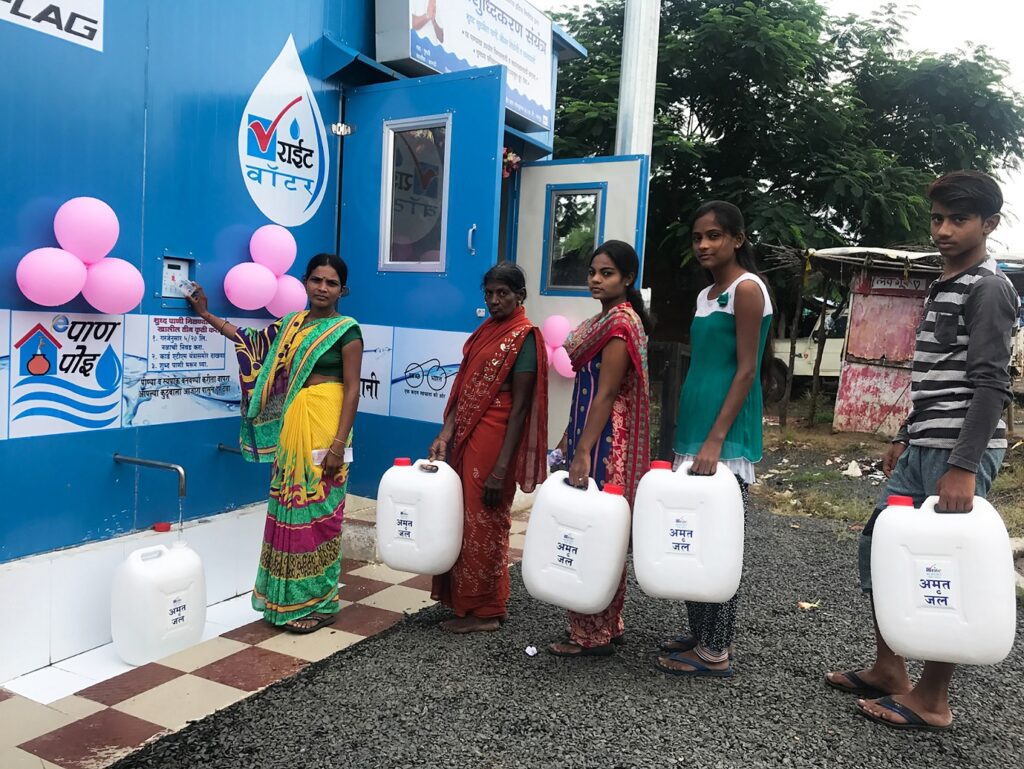 A few of Rite Water's notable projects such as the Community water purification plants, electro-chlorination plants, arsenic and fluoride-based plants, and solar-powered water purification have significantly contributed to making clean water accessible without causing any harm to the environment. Some of the community water purification plants are managed by women self-help groups (SHGs) who earn from the water sales. This microenterprise model helps in providing employment benefits to around 1650 women from 150 such SHGs as well as promoting their livelihood.
Mr. Abhijeet Gaan, Director, and Chief Executive Officer of Rite Water, with a mission to expand sustainable technology and infrastructure to ensure safe and potable drinking water to excluded populations in remotest corners of India and contribute to Sustainable Development Goals, comments that "The collaboration with Incofin's W2AF, the world's first fund dedicated to water, is a momentous accomplishment for Rite Water. It highlights the latent potential in enterprises springing from India's tier 2 cities. This alliance empowers us to expand our reach by bringing clean drinking water to millions of people in rural India. We aim to build a sustainable social venture that not only delivers millions of liters of safe water but does so profitably, creating long-term value for all its stakeholders in the process"

Dina Pons, Managing Partner of Incofin and Fund Manager, W2AF, further adds, "Through this landmark investment, W2AF and Rite Water have formed a strategic alliance dedicated to providing safe drinking water to millions of households in low-income communities across India and beyond. We express our deep appreciation to the committed and skilled Rite Water team for their exceptional work so far. Together, we are steadfast in our common ambition to provide 50 million liters of drinking water every day by 2028. We have witnessed an emergence of water enterprises coming up in markets like Africa, India, and other parts of Asia and we are confident that we will be able to expand our outreach and build on sustainable technology interventions for safe drinking water at the ground level.
W2AF's Investment in Rite Water aligns with the context of the recently concluded UN water conference:
The UN's recently concluded first-ever water conference in New York in March 2023 called for a new global water deal to ensure that everyone has access to safe and affordable water. The conference also highlighted the need to invest in sustainable water solutions.
The investment in Rite Water aligns with both of these goals. Rite Water is a company that is committed to providing safe and affordable drinking water to everyone, regardless of their income or location. The company's innovative solutions and its focus on sustainability are making a real difference in the lives of millions of people.
The investment in Rite Water is a good example of how the private sector can play a role in addressing the global water crisis. By investing in sustainable water solutions, the private sector can help to ensure that everyone has access to safe and affordable drinking water.