3, Nov 2023
Social Beat's Amar Badi campaign for Fortune Foods' Durga Pujo Celebration
Embrace Tradition and Strengthen Community Bonds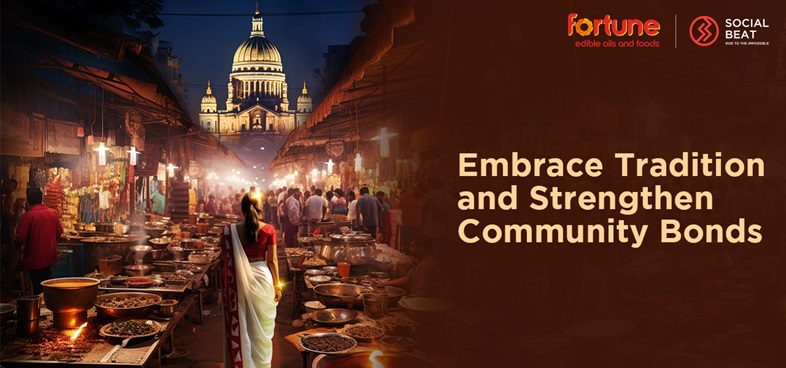 Chennai, 03 November 2023: Social Beat, a pioneering digital agency, introduced their latest digital campaign "Amar Badi" for Fortune Foods. "Amar Badi," which celebrates the joyous occasion of Durga Pujo, aims to bridge the gap between tradition and innovation, embracing the essence of this cultural festival while reinforcing the brand's commitment to customers' cherished moments.
The campaign envisions drawing inspiration from Durga Pujo's rich history and bringing communities closer together. The digital campaign was launched across platforms and affiliates, partnered with ShareChat and Zee5.
The primary objective of the "Amar Badi" campaign was to find communication spaces that resonated with the Bengali community and celebrate Durga Pujo with love, food, and enthusiasm all while deepening their connection with the Fortune Foods brand. The campaign was targeted at enhancing brand love and creating lasting memories during Durga Pujo.
Sanjay Adesara, Head of Marketing at Adani Wilmar said "We wanted to celebrate the spirit of Durga Puja with a campaign that is innovative and unique. Through the "Amar Badi" campaign, we have attempted to keep the Durga Pujo traditions in place while celebrating it with a modern twist. The overwhelming response we received to the campaign reiterated our belief and commitment to being an integral part of this culture".

Vikas Chawla, Co-Founder, of Social Beat: said "Through the 'Amar Badi' campaign, we aimed to create a fusion of tradition and technology that resonated with the heart of Durga Pujo. This campaign was a testament to our commitment to celebrating cultural festivities in innovative ways. We've measured success not just in numbers but in the smiles, we've brought to our audience's faces. 'Amar Badi' embodies the spirit of Durga Pujo, and we're thrilled to have shared this remarkable journey with our community."

Panisa Shah, Director – Creative, Social Beat; said "The 'Amar Badi' campaign was a creative tapestry that wove the rich traditions of Durga Pujo with the dynamic innovations of the digital world. It was a journey of immense joy, as we witnessed our campaign breathe life into this beloved occasion. 'Amar Badi' showcases the very essence of Social Beat's creative prowess, as we continue to craft experiences that celebrate tradition and embrace the possibilities of technology."
As we continue to uphold our tradition of combining the essence of our cultural festivities with innovative digital experiences, we aim to make "Amar Badi" a reflection of the warmth, love, and joy that Durga Pujo embodied. The campaign was more than just a celebration; it was a testament to the importance of embracing tradition while welcoming innovation.
About Social Beat
Founded in 2012, Social Beat is a digital growth partner, enabling brands to rise to the impossible. With a 300+ strong team of digital experts across Bengaluru, Mumbai, NCR, and Chennai, they are India's fastest-growing independent digital marketing solutions company and manage 4% of digital media investment in India. Social Beat is a Google Premier Partner, Meta Business Partner and works closely with ecosystem partners like Amazon, Hotstar, Salesforce & Linkedin. D2Scale is their centre of excellence for D2C and retail brands to drive e-commerce growth. Influencer.in is their creator economy product driving discovery and real-time reporting of impactful influencer marketing campaigns. They work as extended growth teams with leading brands like Bharat Matrimony, Adani Wilmar, Jaquar, Arvind Brands, Indian Terrain, Mahindra Finance, Kalpataru Group, Go Colors, JK Cement, Sundaram Mutual and with hyperscaling startups including boAt, WOW Skin, Licious, Niyo, Gamezy, Veeba, A23 Games, Kapiva and Sukoon Health on driving innovation through a combination of creativity and performance.