3, Nov 2023
ZK Sports & Entertainment and Capital Motion Present: "The Velocity Experience" at the Abu Dhabi F1 2023
ZK Sports & Entertainment, the renowned sports and entertainment innovator providing VIP hospitality experiences to global sporting events, is thrilled to announce its latest venture: a collaboration with Capital Motion. Known for their exclusive F&B establishments in Abu Dhabi, including Siddhartha Lounge and the iconic beach club Café del Mar in Abu Dhabi, Capital Motion is the perfect partner to elevate the F1 experience to unparalleled heights.
The result? "The Velocity Experience" – a VIP experience offering a seamless blend of exhilarating racing, luxury, and top-notch entertainment that promises to captivate attendees from start to finish.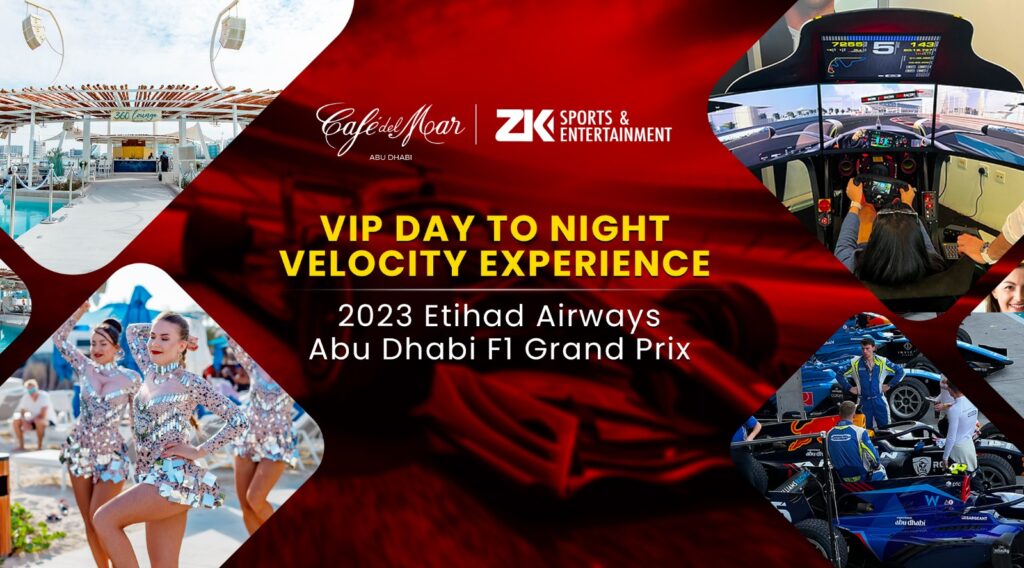 Over three days, The Velocity Experience will provide their guests with:
Unmatched Views: From the luxurious track viewing lounge at the circuit, where guests will be treated to panoramic vistas of the F1 track, ensuring they don't miss a second of the high-octane action.
Culinary Delights: An all-inclusive gourmet free-flowing F&B offering awaits, ensuring palates are just as exhilarated as racing hearts.
Entertainment: Live DJ sets will set the mood throughout the day, interspersed with live entertainment acts that are sure to dazzle and amaze.
World-class Simulation: F1 enthusiasts can get closer to the action than ever before with one of the world's best F1 Simulator experiences – right inside the suite.
F1 Authentic's Gifts: To make the memory last, attendees will receive official F1 authentic gifts.
And the excitement doesn't end there. As the sun sets on the racetrack, the party shifts to the iconic Café del Mar, born in Ibiza and reborn in Abu Dhabi with legendary Café del Mar chill-out music and, a picturesque 360 lounge view. Here, Velocity Experience guests will be treated to an additional three hours of prime canapés and a house open bar. Bask in the world-class music, entertainment, premium dining, and bar experiences that Café del Mar is well known globally.
"The Velocity Experience is the culmination of our dedication to offering unrivalled sports and entertainment experiences," comments Oliver Kent – ZK Sports International CEO. "By joining hands with Capital Motion, we're combining the thrill of F1 with luxury hospitality and entertainment, setting a new benchmark for racegoers everywhere."