31, Oct 2023
Adhura, Vashikaran to Ghoul: Check Out Unmissable Series for a Halloween Fright Fest
Halloween is here, and what better way to get into the spooky spirit than with a marathon of must-binge series that will send shivers down your spine? Whether you're a horror fanatic or just looking for some chilling entertainment, we've curated a list of spine-tingling web series and audio series that are perfect for your Halloween extravaganza. From supernatural mysteries to psychological thrillers, these series are sure to keep you on the edge of your seat.
So, grab your favourite Halloween treats, dim the lights, and prepare for a thrilling ride through the best of the eerie, the creepy, and the downright terrifying.
Adhura
Get ready for a spine-tingling Halloween with 'Adhura' on Prime Video. This supernatural horror thriller, directed by Ananya Banerjee and Gaurav K Chawla, unfolds in a mysterious boarding school with unexplainable events. Starring Ishwak Singh, Rasika Duggal, Shrenik Arora, and Rahul Dev, it dives into unimaginable mysteries. Strange happenings at Nilgiri Valley School revolve around new student Vedant, and as ex-student Adhiraj Jaisingh confronts his past, a sinister secret emerges, putting everyone in grave danger. 'Adhura' promises a terrifying journey into the supernatural this Halloween, keeping you on the edge of your seat.
Vashikaran
Dive into the mystical world of "Vashikaran" on Pocket FM. Set in the enigmatic Pali village, this audio series unveils the curse of Banjaran, a woman with a hidden identity and a dark secret. Her story, intertwined with ancient rituals and supernatural forces, is sure to send shivers down your spine. 25 years later, friends Dhruv, Ananya, and Vicky, are on an adventure, in their fateful visit to the village, where sinister events begin to unfold. "Vashikaran" is a must-listen audio series for those who love chilling mysteries and the collision of the supernatural with ancient traditions.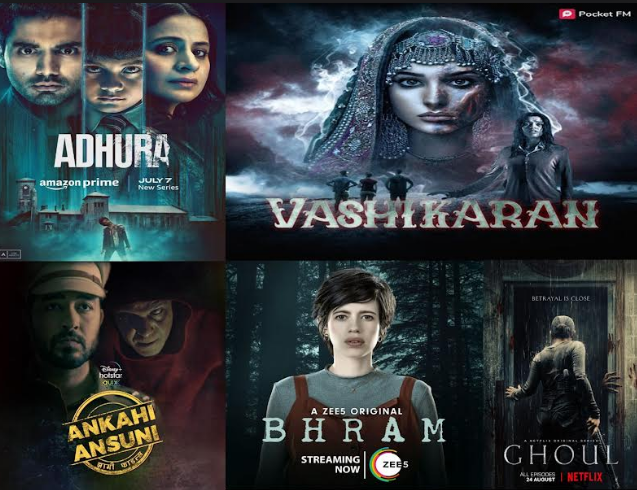 Ghoul
This Halloween, don't miss out on "Ghoul" streaming on Netflix. Directed by Patrick Graham, this Hindi horror series is a spine-chilling tale of a prisoner who releases a demonic entity during an interrogation by Nida Rahim (Radhika Apte) at a remote military detention center. The show explores Nida's unwavering loyalty to the authoritarian regime and her quest to cleanse society. As she investigates the notorious terrorist, Ali Saeed (Mahesh Balraj), she starts to suspect he's possessed by a supernatural entity, leading to shocking revelations about his true nature. With its gripping storyline and eerie atmosphere, "Ghoul" is a must-watch for a thrilling Halloween experience.
Ankahi Ansuni
Celebrate Halloween with "Ankahi Ansuni" on Disney+Hotstar! This Hindi horror thriller follows Umesh, the youngest UP police inspector, as he's demoted and sent to the eerie town of Jhaagi. As he steps into this town of unsolved crimes and chilling sightings, a series of disturbing events, including the mysterious disappearance of young girls, unravels. Umesh has only three days to find them before they're gone forever. With a gripping storyline, 20 episodes, and a talented cast and crew, "Ankahi Ansuni" is the perfect choice for a spooky Halloween binge-watch. Dive into a world shrouded in secrets and suspense.
Bhram
Immerse yourself in the gripping psychological horror/thriller "Bhram" on Zee5 this Halloween. Follow Alisha Khanna, a bestselling romance writer, as her life takes a terrifying turn after a car accident. Her journey to uncover the truth leads her through a maze of paranormal, mythical, and psychological extremes. With visions of a long-deceased girl and a town full of dark secrets, Alisha's investigation reveals chilling evidence, putting her life in jeopardy. Starring Kalki Koechlin, Bhumika Chawla, Sanjay Suri, and more, "Bhram" is a must-watch web series that will keep you on the edge of your seat this Halloween. Prepare for a spine-tingling experience as you uncover "The Other Side of Her Story."