14, Oct 2023
Dubai Bling's Safa Siddiqui walked for 'Not So Serious' by Pallavi Mohan at Lakme Fashion Week X FDCI
October 2023: Dubai Bling's star Safa Siddiqui and Miss Universe Harnaaz Kaur Sandhu and graced the ramp displaying 'My Journey… Just the Beginning…' Collection for 'Not So Serious' by Pallavi Mohan at the Lakme Fashion Week X FDCI. The evening witnessed Miss Universe Harnaaz Kaur Sandhu kicking off the show with her unparalleled grace and stylish walk. Safa Siddiqui, a popular Reality TV star and sensation of Dubai Bling's on Netflix, marked the event's grand finale act with her stunning appearance.
'Not So Serious' by Pallavi Mohan has marked a remarkable 15-year journey in the realm of fashion, embodying enduring elegance and creativity. Designer Pallavi Mohan's creative vision was beautifully realized during the event, reflecting her commitment to pushing the boundaries of fashion.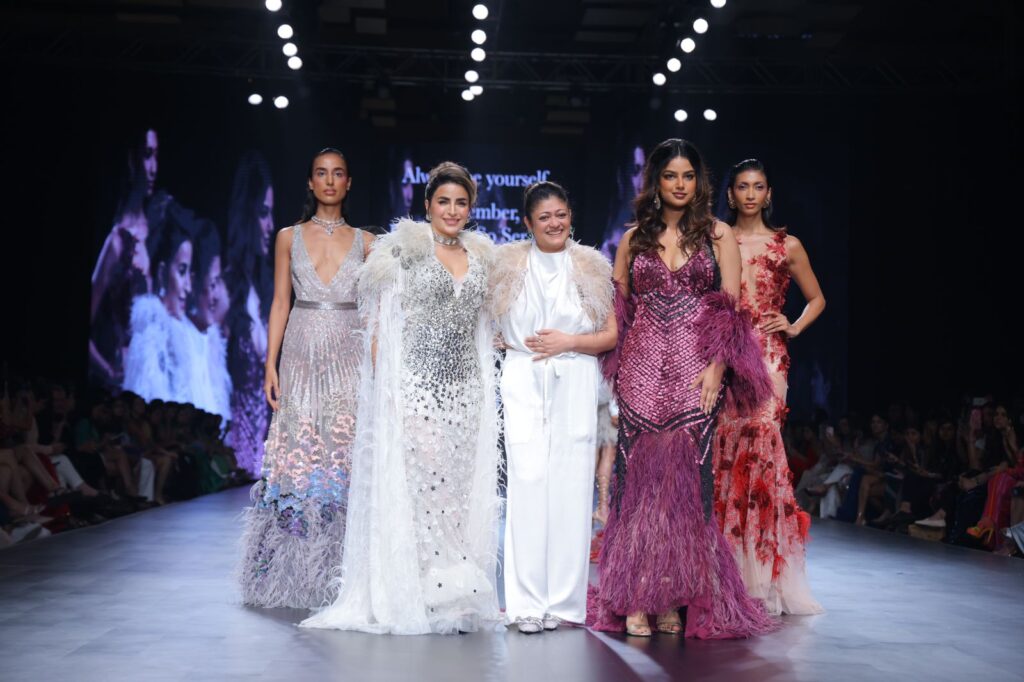 Safa Siddiqui expressed her thoughts with sensitivity, stating, "Lakme Fashion Week X FDCI embodies creativity and style. It was a privilege to be part of this extraordinary evening, surrounded by such artistic brilliance. Fashion transcends boundaries, and Pallavi Mohan's collection beautifully exemplifies that. It's heartening to walk for a brand that's conscientious. Using fashion as a platform to express our support for positive change is both inspiring and necessary. In unity, we can truly make a difference.
"Designer Pallavi Mohan herself conveyed her vision for the 'My Journey… Just the Beginning…' collection and the event as a whole, "Fashion is an ever-evolving form of art that allows us to experiment, innovate, and express our innermost feelings. The collection is a reflection of this philosophy – a blend of tradition and modernity, a tribute to our rich cultural heritage, and a nod to the ever-changing world of fashion. It was an absolute pleasure to have Harnaaz Kaur Sandhu and Safa Siddiqui walk for the collection, adding charm to my designs."
Harnaaz Kaur Sandhu shared her experience stating, "It's an absolute privilege to be part of an event as iconic as Lakme Fashion Week XFDCI. Fashion is a powerful form of self-expression and the collection by Pallavi Mohan 'My Journey… Just the Beginning…' resonated with me. I highly believe fashion has the power to empower and inspire, and I'm delighted to have been a part of this fantastic showcase."