30, Oct 2023
Powerful, motivating and inspiring talks marked TEDx Hyderabad Women 2023
Hyderabad, October 30, 2023...TEDxHyderabad Women 2023, a half-day TEDx (Technology Entertainment and Design) event held on Sunday till late evening at the Park in the city with the theme "Two Steps Forward". The four speakers–Duvvuru Varshitha, Sharanya Ari, Anu Prasa and Aradhana Lal, who conquered adversity and reached astonishing heights spoke from the red dot and delivered a very impactful talk in the stipulated 18 minutes (as mandated by TEDx)
It is our special and 34th event, said Ekta Viiveck, TEDx Hyderabad volunteer who hosted the show. About 2000 TEDx events are held across 170 countries every year. These events are held every day, in every corner, in schools, colleges and even in prisons, Ekta introduced TEDx for the benefit of the first timers. TEDx Hyderabad is one of the top few events held in India, she added.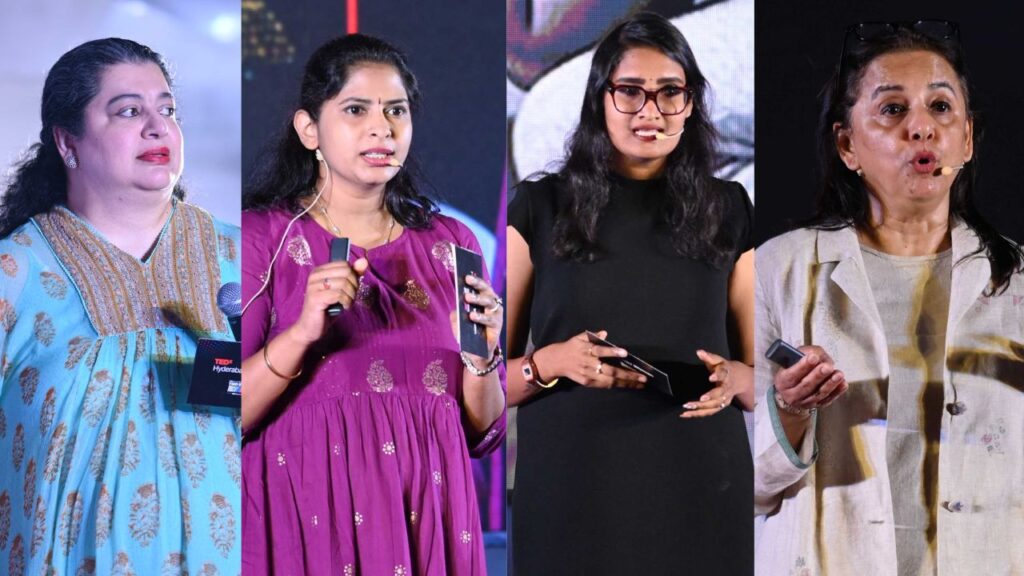 We are a community of Thinkers, enablers and doers…. one idea at a time said Viiveck Verma, the licensee and curator of TEDx Hyderabad in his closing remarks. It all began with a bunch of volunteers in 2014. We endeavoured to build a community of thinkers, enablers and doers. The purpose of it is to create a unique gathering in the community that will unleash new ideas, inspire and inform. A TEDx event is a local gathering where live TED-like talks and performances are shared with the community.
It was organized with the support of Swastik Spices, FICCI Ladies Organization and SAHE (Society for Advancement of Human Endeavour)
The event began with a mandatory video of TEDx which gave the audience an overview of what it was. The theme was adopted from TED. The theme was all about how we move women to adopt two steps forward in their endeavours.
These are not those topics talked about in our daily life, Ekta said and sought audience encouragement to the speakers with a loud round of applause, even a standing ovation if they deserved so.
The first speaker was Aradhana Lal, a leader of Sustainability/ESG Initiatives at Lemon Tree Hotels, who drives an inclusive employment strategy with a remarkable track record of hiring Employees With Disabilities (EWD) over the past 15 years. Her visionary goal is to elevate EWD representation from 14% to around 30% by 2025-2026. She pioneers initiatives for various disabilities, boasting three decades of experience in Sales, Marketing, and Corporate Communications.
Inclusivity brings waves of happiness. It does enormous good to the organisation. The creativity goes up. Sense of loyalty goes up. People tend to stay long with organizations. It gives employees a sense of engagement. Working in an inclusive organization, she told her audience and asked when your inclusive journey begins.
The second speaker was Sharanya Ari, an Indian Administrative Service officer (2016 batch, Tamil Nadu Cadre). She held various significant government roles, including Assistant Secretary in the Ministry of Culture, Assistant Collector in Coimbatore, and Sub Collector in Kanyakumari. Ari leads the Gender and Policy Lab within the Chennai Corporation, collaborating with a team of technical consultants to execute projects focused on enhancing women's safety in public spaces.
An excellent storyteller, Ari began her well-curated talk with the story of a flower vendor in Chennai and her plight, which she could relate very well with her 200-plus audience with apt visuals. One such is public transportation. 37% of women's trips to their work are by walking as against 26% for men. Women travel 5 to 8 km for work and the most preferred mode of transportation is the bus. No women go on the road for leisure but they do so for a purpose. Many public amenities are unwelcoming to many women. Inclusive urban planning is not just an Indian problem but it is a global problem. Vienna is one such city in which 90 per cent of offices are designed women-centric. In this light of background Gender and Policy Lab was set up to improve women's opportunities in Chennai by enhancing safety and gender equality in public spaces, she said. It was operationalized by the Greater Chennai Corporation (GCC) under the Nirbhaya Funds as part of the Chennai City Partnership between the Government of Tamil Nadu and the World Bank, she added. Chennai emerged as India's first gender-inclusive city. This initiative aims to make the city a safer place for women and promote gender mainstreaming, she informed.
Don't women deserve the right kind of public space just like men? she asked. Cities are for all. Make cities innovative hubs and be partners in change and development she said and concluded her talk which received thunderous applause.
Duvvuru Varshitha, a MedTech Innovator specializing in Research and Development, Design Thinking, and Hardware Prototyping within Healthcare, Life Sciences, and Innovation was the third speaker. With four years of startup experience behind her, she shared how her diabetic problem made her innovate a non-invasive blood glucose monitor device. Her talk moved people with tears in their eyes especially when she said the normal life of a child was out of her reach due to her diabetic condition. While my friends in the school enjoyed their school life I was busy monitoring my blood glucose levels, she shared her journey.
Her notable achievements include winning the NITTE Healthcare Challenge, the TIE WOMEN Global Pitch Competition, and being featured in SHARK TANK INDIA – Season 1. The offer which she later rejected. Her ultimate aim is to enhance well-being and happiness through innovative real-life solutions. Her presentation got a huge round of applause.
Anu Prasad was the last speaker. She is the Founder & CEO of India Leaders for Social Sector (ILSS), working to strengthen India's social sector through leadership and talent development. She said only 19% of social purpose organizations are led by women. Let us change this. Women don't have an equal voice. Let us show we could be a powerhouse. Let us work towards gender equality and parity, which could add $ 700 billion in opportunity