19, Oct 2023
The EO Gurgaon Swings Close the "Relive the 2011 World Cup Glory" of Indian Cricket Veterans
New Delhi, October 19, 2023, | Extending their portfolio of high-profile events, Entrepreneurs Organization, Gurgaon Chapter orchestrated an unforgettable event that beautifully merged cricket and entrepreneurship. Titled "Relive the 2011 World Cup Glory," the event featured cricketing legends Virender Sehwag, Yuvraj Singh, and Harbhajan Singh, who recounted their incredible journey to victory in the 2011 ICC Men's World Cup.
Kicking off with Aditya Tulsan's, Learning Chair of EO Gurgaon, insightful keynote, the audience was treated to personal anecdotes, delving into the transformative power of cricket and its resonance with ordinary citizens. He set the tone on how much there is for entrepreneurs to learn from the perseverance and preparation of these WC 2011 champions. Mr. Vipul Jain, EO Gurgaon's current President, highlighted the event's unique blend of cricket fervour and entrepreneurship, transcending the conventional business-focused agenda.
Renowned sports presenter Riddhima Pathak adeptly moderated the session, coaxing the cricketers to share unique stories and valuable lessons. Virender Sehwag regaled with tales of his aggressive style, citing an off-handed comment by the opposition as motivation for the memorable four 4s against Pakistan. He shed light on the extensive preparations for the World Cup 2011 started in 2008 itself, emphasizing that every match during this 3 year period was treated like a knockout, fostering mental growth and preparing for the eventual challenges.
On being asked if he felt any pressure to convert his 90 runs to a century, Virender Sehwag shared how he approached the opportunity statistically. He said if he scored one run in each ball then there were 10 chances for him to lose his wicket. Instead, he tried to close the gap with the statistically fit option of scoring a century in the next two balls with a 4 and a 6.
Among jokes and anecdotes, Sehwag also took the time to appreciate Yuvraaj Singh's contribution to the 2011 World Cup, saying, that without 'Yuvi', India would not have made it to the Semi-Finals.
Yuvraj Singh's journey was profound, from World Cup triumph to chemotherapy. He shared how he had begun to experience pressing symptoms during the World Cup preparations, but he was undiagnosed then. The World Cup demanded full attention and grit, so he just persevered keeping in mind the larger goal. Continuing to talk about his battle with cancer, he emphasized the need for resilience and giving back through his foundation, YuviCan.
He also expressed gratitude for playing alongside Sachin Tendulkar, who not only guided him during his tough times but also became his motivation to win the cup. One of his remarks that also hit home was Singh advice on handling life by maintaining a steadfast mindset even after poor performances.
Harbhajan Singh added a unique perspective on India-Pakistan matches and the intense pressure in homeland games, especially getting match tickets for friends & family. When questioned about his pre-match superstitions, Harbhajan candidly shared his experiences, stating that he had experimented with different rituals, ultimately leaving the outcome to a higher power.
Addressing a difficult loss against South Africa, Singh revealed that it was a topic that nobody spent time discussing immediately after the match but rather chose to move on. He emphasized the resilience required to bounce back after such defeats, a sentiment echoed by many professional athletes.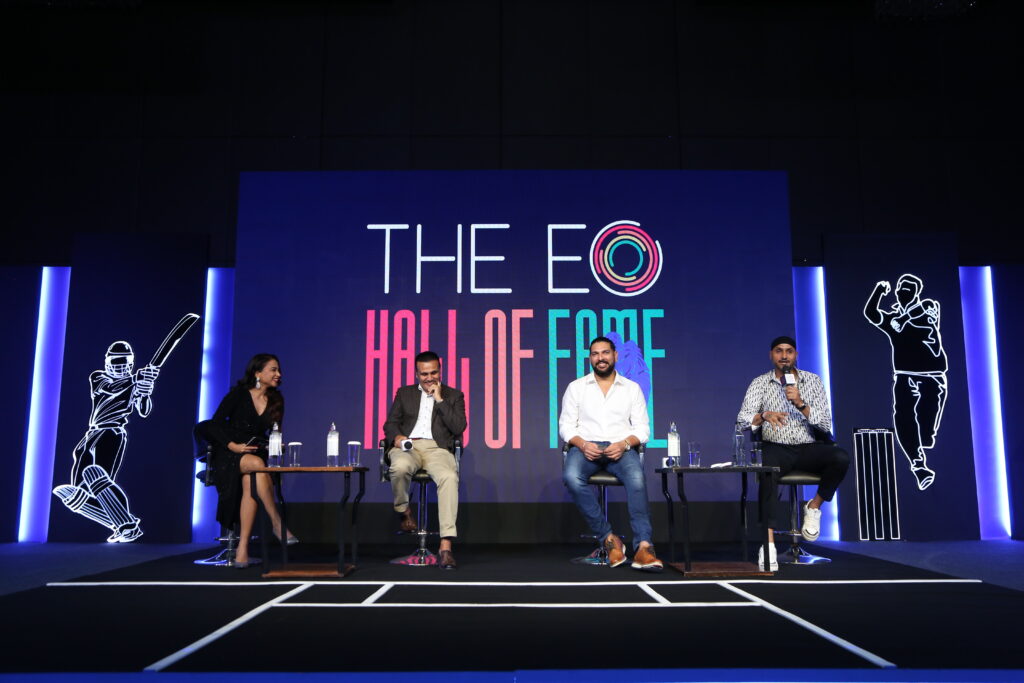 In response to a business-related query, Singh drew parallels between the challenges faced in personal and professional life. He stated that cricketers, like entrepreneurs, experience the cyclical nature of success and failure. He jokingly mentioned how business orders can be realized again soon, but the chance at a World Cup comes only once in 4 years.
Commenting on the resounding success of the event, Mr. Vipul Jain, Current President of EO Gurgaon, said, "We wanted to congregate all our members to lean into the cricket fever in the air. , It is an atypical EO event, where the binding theme was essentially – fun and reliving the 2011 Victory, and we wanted to call the champions themselves to give us that inside edge. Whenever there is a story, there is a learning, and this is how this event was aligned to our theme of "Learn. Act. Inspire." It's not just a physical sport.

The mental dexterity that goes behind their game is parallel with an entrepreneur's journey. We must train ourselves, and be mentally prepared for failures, let downs. Yuvraj's story of winning the World Cup, getting diagnosed immediately after, and then returning to the field is as motivating as it is shocking. As entrepreneurs, we get to the pinnacle of success, we fail, we stand up again. So, it is always great to learn from such champions."
The event concluded with a heartfelt gesture, as the cricketers were felicitated with paintings created by autistic children, along with donations in their names. The EO members shared memorable moments with the cricketing icons, marking a successful culmination of an extraordinary event aligned with the theme of "Learn. Act. Inspire."