12, Oct 2023
The Resounding Success of "TU DIKHE SE" Song with 10K Views in just One Week
XYZ Production Pvt. Ltd. is thrilled to announce the astounding success of its latest musical release, "TU DIKHE SE," which garnered a remarkable 10,000 views within just one week of its debut. This accomplishment solidifies "TU DIKHE SE" as an instant sensation in the music industry.
Directed by Bhupesh Kalal, "TU DIKHE SE" boasts an impressive cast that includes Shubham Jaibeer Sahrawat and Rupsi Singh, whose captivating performances have left audiences amazed. The soulful and melodious voice behind the song is Krishan Madha, whose vocals have resonated with music lovers worldwide. The song's emotional narrative is brought to life by the creatively crafted and beautiful lyrics penned by the renowned SK Chanan Wala. Abhi Saini's enchanting music composition elevates "TU DIKHE SE" to new artistic heights. The song is available on major music streaming platforms, including Hungama Music, Spotify, Wynk Music, and Amazon Prime Music, allowing listeners to enjoy its melody and emotional journey anytime and anywhere.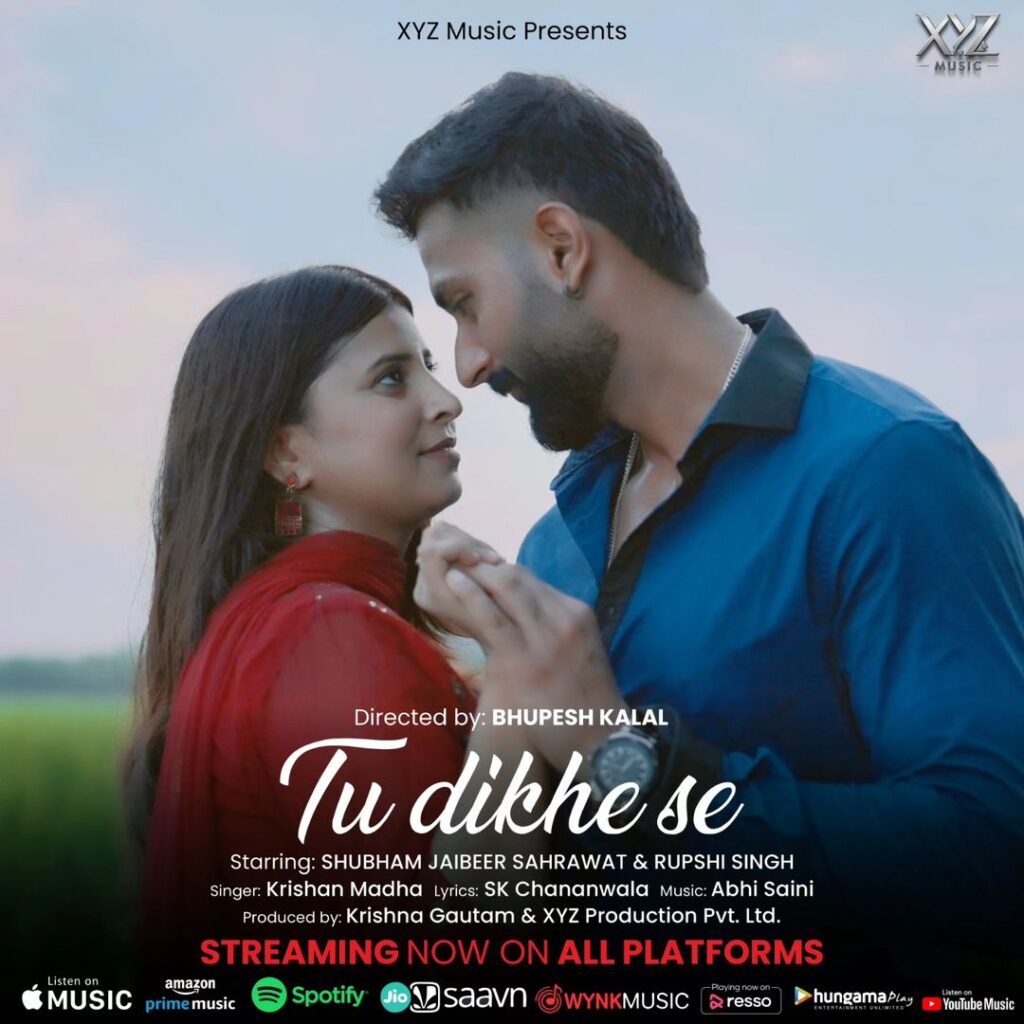 XYZ Production Pvt. Ltd. is grateful for the overwhelmingly positive feedback it has so far received and is honored to deliver "TU DIKHE SE" to music fans. This achievement is a tribute to the team's hard work, ability, and dedication in bringing this song to life.
XYZ Production Pvt. Ltd. says:-
We are extremely happy about the 10,000 views and amazing reception 'TU DIKHE SE' has garnered in just one week. From the captivating performances by Shubham Jaibeer Sahrawat and Rupsi Singh to Krishan Madha's beautiful vocals, SK Chanan Wala's emotionally stirring lyrics, and Abhi Saini's lovely music production, this resounding success says volumes about the brilliance and dedication of our team. The song "TU DIKHE SE" is more than just a song; it's an emotional journey that has touched music fans all around the world.

We are delighted to see such an amazing review from our audience who welcomed "TU DIKHE SE" with open arms. We anticipate producing more soul-stirring musical masterpieces in the future. This is just the beginning.