16, Oct 2023
Brand Pixlr App: Unleashing the Power of Creativity, Powered by Digital Dhaba, Now Available Across India
New Delhi, 16th October 2023 – We are thrilled to announce the nationwide launch of Brand Pixlr, a cutting-edge poster-making app that is set to redefine visual content creation, now available to users across India. Developed and powered by Digital Dhaba, the Brand Pixlr offers a dynamic platform designed to empower businesses, artists, and creative enthusiasts of all backgrounds to create stunning and impactful posters with ease.
With Brand Pixlr, we are embarking on a journey to bridge the gap between artistic creativity and technological innovation. By harnessing the expertise of Digital Dhaba, we have created a powerful tool that is poised to revolutionize the way India crafts its visual narratives.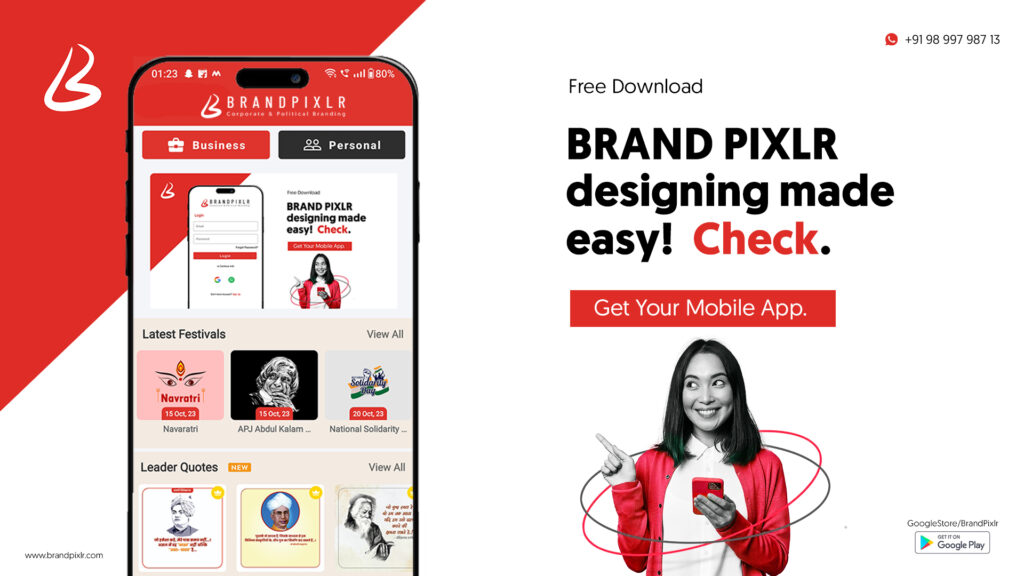 Key Features of Brand Pixlr:
Intuitive Design Interface: Brand Pixlr was created with user-friendliness in mind, ensuring that even those with no prior design experience can craft professional-quality posters effortlessly.
Diverse Templates: Choose from a diverse range of professionally designed templates, each tailored to suit various occasions, marketing objectives, or personal projects. Tailor them to your vision with ease.
Drag-and-Drop Elements: Add text, images, and icons to your posters using a simple drag-and-drop system. Customize fonts, colors, and layouts to reflect your unique style and message.
Powerful Editing Tools: Edit photos within the app, crop, adjust brightness, contrast, and apply filters to create captivating visuals that resonate with your audience.
Stock Image Library: Access an extensive library of high-quality images and graphics, ensuring that your posters are visually striking and engaging.
Export and Share: Save your creations in high-resolution formats or share them directly on social media platforms, via email, or print them for offline use.
BrandPixlr Pro: For advanced features and exclusive content, Brand Pixlr Pro offers an ad-free experience, unlimited template access, and priority support.
Words from the Founders:
Founders Manish Jha and Abhishek Sahay share their vision for the Brand Pixlr:
Manish Jha: "India is home to an extraordinary wealth of creativity and innovation. Our dream with Brand Pixlr is to democratize design and empower every politician, and individual, whether they're a small business owner, a passionate artist, or a marketing professional, to convey their ideas through stunning visuals. We are thrilled to launch the Brand Pixlr App nationwide and excited to witness the incredible creations that will emerge from this diverse and vibrant nation."

Abhishek Sahay: "With Brand Pixlr, we aim to make design not only accessible but also enjoyable for people from all backgrounds. It's not just an app; it's a movement that encourages people to explore their creative potential. We hope Brand Pixlr becomes an integral part of India's creative landscape, and we look forward to seeing the amazing posters and campaigns that our users will create."
Brand Pixlr, powered by Digital Dhaba, is now available for download on Android devices across India. Join us in this creative journey and explore the limitless possibilities of visual storytelling with Brand Pixlr.