9, Jun 2023
Vistara, Now First Airline in India to Implement Robotic Aircraft Exterior Cleaning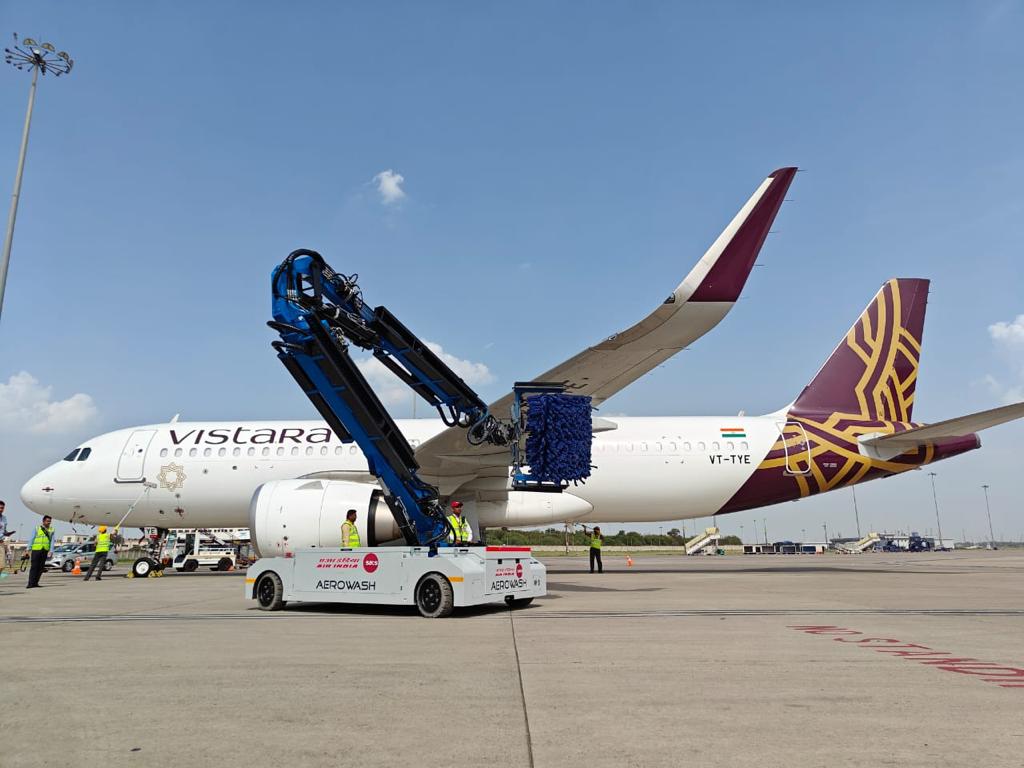 Mumbai, 09 June 2023: Vistara, India's leading full-service carrier and a joint venture of Tata Sons and Singapore Airlines, announced yet another industry-first initiative of implementing Aerowash, an automated aircraft exterior washing and cleaning solution introduced by AeroTech Support Services Pvt. Ltd. Operated by a user friendly and wireless remote control, Aerowash is equipped with several safety features and alarm indicators. Its efficient micro-fiber brush drum provides a superior cleaning result of the aircraft exterior surface using a nearly waterless, dry-wash process.
This cutting-edge technology reiterates Vistara's commitment towards adopting innovative solutions to enhance operational efficiencies while also reducing its carbon footprint. Aircraft detailing (or cleaning) is a critical aspect of maintenance in the aviation industry. Traditionally, it has relied on manual labor, which can be time-consuming, resource-intensive and prone to human error. However, this mechanised program is not only time efficient but also sustainable. It reduces aerodynamic drag caused due to the accumulation of dirt, dust, grime, etc., and ultimately reduces the aircraft weight. This directly translates to enhanced fuel efficiency by minimising fuel burn.
By meticulously maintaining the cleanliness and integrity of the aircraft's exterior, this innovative approach will safeguard against structural damage, prevent corrosion caused by environmental factors and oil/fluid leakages, and extend the lifespan of the aircraft. Vistara has been conducting demo/proof of concept of AeroWash for sometime.
Pankaj Handa, Senior Vice President – Ground Operations, Vistara said, "We are delighted to become India's first carrier to implement this one-of-a-kind initiative that underscores our unwavering commitment to invest in innovative, purpose-driven technologies since inception. This is yet another step as part of our ongoing efforts towards enhancing efficiencies across various areas of our operations through automation while also constantly looking at improved, and more sustainable ways to do business."
Dr. Ashwani Khanna, Executive Director, AeroTech Support Services Pvt. Ltd. said, "We are excited to get associated with Vistara as it becomes the first airline to adopt this futuristic technology after a detailed assessment. Vistara is the first airline in India to sign up for this solution and lead the way for other airlines to follow. I am also happy with how the relationship with AISATS has evolved to a collaborative partnership that has the potential to have a deep positive impact on the entire industry in the coming years."
Vistara is India's highest-rated airline on Skytrax and TripAdvisor, and it has been the winner of several 'Best Airline' awards, besides being lauded for world-class cabin cleanliness and upholding high safety standards. The airline has recently been featured amongst World's Top 20 Airlines while being recognised as the 'Best Airline in India and Southern Asia' for the second time in a row, 'Best Airline Staff Service in India and Southern Asia' for the fourth consecutive year, 'Best Cabin Crew in India and Southern Asia' for the second time in a row and 'Best Business Class in India and Southern Asia' at the coveted Skytrax World Airline Awards 2022. Vistara was also named the 'Best Overall Airline' in Central/Southern Asia at the 2023 Regional Passenger Choice Awards. Additionally, Vistara had recently received the ch-aviation Asia's Third Youngest Airline Fleet award for the second consecutive year.