21, Jun 2023
Wave City celebrates the 9th International Yoga Day with full zeal
Organises Yoga sessions in collaboration with Delhi Public School, Ghaziabad & Hi-Tech World School
Ghaziabad, 21st June 2023: Wave City, the first operational Hi-tech City in North India, today organised enriching yoga sessions at several parks in different sectors including Central Park to commemorate International Yoga Day. The yoga session was conducted in collaboration with Delhi Public School, Ghaziabad & Hi-Tech World School and witnessed huge turnout of more than ~ 300 attendees. This year's International Yoga Day celebration is centered and themed around Humanity.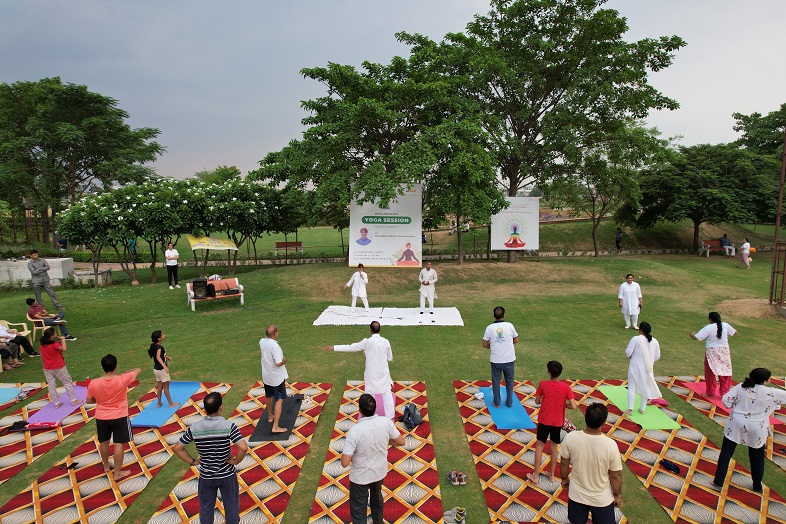 Speaking on the occasion, CJ Singh, COO, Wave City said, "Yoga is a spiritual practice that benefits every aspect of human existence as it can help reduce stress, strengthen immunity and improve physical and mental health. Wave City's commitment to fostering humanitarian spirits among its people is unwavering and we believe through Yoga, we can revive the humanity that is slowly fading in our society. I am more than pleased with the reception to our event and aim to organise more such programs in future as well".
The participants enjoyed 2 hours of enriching Yoga sessions under the guidance of expert Yoga practitioner Yogacharya Dr. Saroj Sirohi along with a few more renowned trainers. They performed various Asanas such as Tadasana, Gomukhasana, Trikonasana, etc, and Pranayams such as Bhramari, Bhastrika, Anulom vilom, etc.