12, Aug 2023
Poker Magnet Marks India's 76th Independence Day with Revolutionary Subscription Model and Exclusive Bonus Code
[Gurugram, 12th August 2023] – As India celebrates its 76th Independence Day, Poker Magnet, a new-age digital gaming company in the online poker industry, unveils a launch that aligns with the spirit of freedom and innovation. Introducing, India's first-ever Subscription Model for poker players along with an exclusive Bonus Code FREEDOM76.
With an unwavering commitment of Poker Magnet's team to enhance the poker experience for its players, the Subscription Model introduces an array of thrilling features that redefine the dynamics of the game in the country. The subscription model comes packed with a host of innovative features, including:
1. HUD (Heads-Up Display): A central highlight of the subscription model is the groundbreaking HUD feature, which sets Poker Magnet apart from other platforms by offering players an unparalleled level of insight and strategy. The feature empowers players with access to essential data points, such as VPIP (Voluntarily Put Money in Pot), enabling them to analyze their gameplay like never before. This information also equips players with the knowledge to make strategic decisions and enhance their skills.
2. Expressive Emojis: Poker goes beyond cards; it's a realm of emotions and camaraderie. The Subscription Model introduces an expressive array of emoji's that players can use to convey emotions, strategies, and camaraderie in real-time. From celebrating a victory to showing empathy, these emoji's foster connections among players, enhancing the social aspect of poker.
3. Rabbit Hunt Adventure: The Rabbit Hunt feature adds an exhilarating layer to every hand, allowing players to peek at unrevealed cards after a hand concludes. This captivating addition adds suspense and excitement, transforming each hand into a journey of possibilities and revelations.
4. Free Time Bank: In poker, time is a crucial element for strategic choices. The Subscription Model offers players a valuable Free Time Bank, allowing them to strategize, analyze, and execute their moves without the pressure of time constraints. This feature encourages analytical thinking and empowers players to make precise and calculated decisions.
5. Disconnection Time Safety Net: Acknowledging the unpredictability of online connectivity, the Disconnection Time feature safeguards players from unexpected disruptions. This assurance ensures seamless reconnection and uninterrupted gameplay, enabling players to focus on their strategies without concerns of technical interruptions.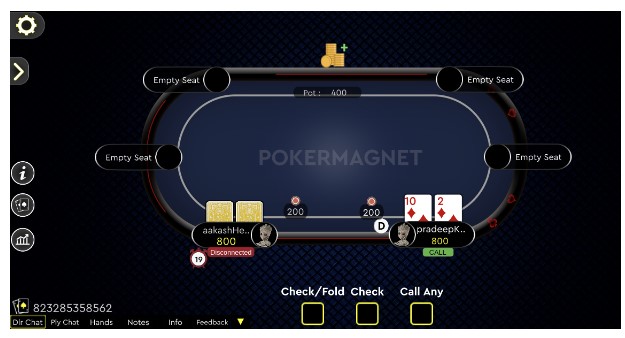 "Mr. Rahul Bhatia, Founder Poker Magnet said, "With the unveiling of our Subscription Model, we embark on a journey that redefines poker entertainment. We've carefully crafted this model and our decision to price the subscription is rooted in the understanding that when something is earned, it holds a deeper significance. We recognize that in a culture where value is cherished, providing a premium experience requires a commitment from both sides. Through this launch, we intend to not only elevate the gameplay but also celebrate the inherent value of engagement."
The Gold and Platinum Membership tiers are available now for ₹250 & ₹500 per week respectively. Players can sign up for the subscription model on the Poker Magnet app. Also,
With a deposit of ₹1508, players unlock a ₹760 as RCB (Real Cash Bonus) and ₹748 as UCB (Unreal Cash Bonus), creating a gaming experience that resonates with joy and celebration.
Players can enter the Bonus Code FREEDOM76 while making a deposit, and the bonuses will be credited to their respective accounts, instantly.
To partake in this launch and explore the Subscription Model and bonus code, players can download the official Poker Magnet app from https://pokermagnet.com/ and embark on a poker adventure like never before.
About Poker Magnet:
Established in 2016, Poker Magnet is a new-age digital gaming company that aims to transform the online poker industry in India. As a team of passionate poker enthusiasts, we are dedicated to bringing the thrilling world of poker to players everywhere. Our mission is to create an exceptional poker app that encompasses cutting-edge technology, immersive gameplay, and a vibrant poker community.
At Poker Magnet, we uphold the values of integrity, fairness, and innovation. We prioritize maintaining the highest standards of security and player protection, ensuring that your gaming experience is both exhilarating and safe. Our platform is designed with a seamless and user-friendly interface, making it accessible for players of all skill levels to enjoy the game.
Beyond the gameplay, we take immense pride in fostering a vibrant and inclusive poker community. We firmly believe that poker is more than just a game of cards; it's a social experience that brings people together. Join our community today, and immerse yourself in the camaraderie and excitement that poker offers.