1, Jul 2023
HP Government in collaboration with FICCI to organize Himachal Drone Conclave 2023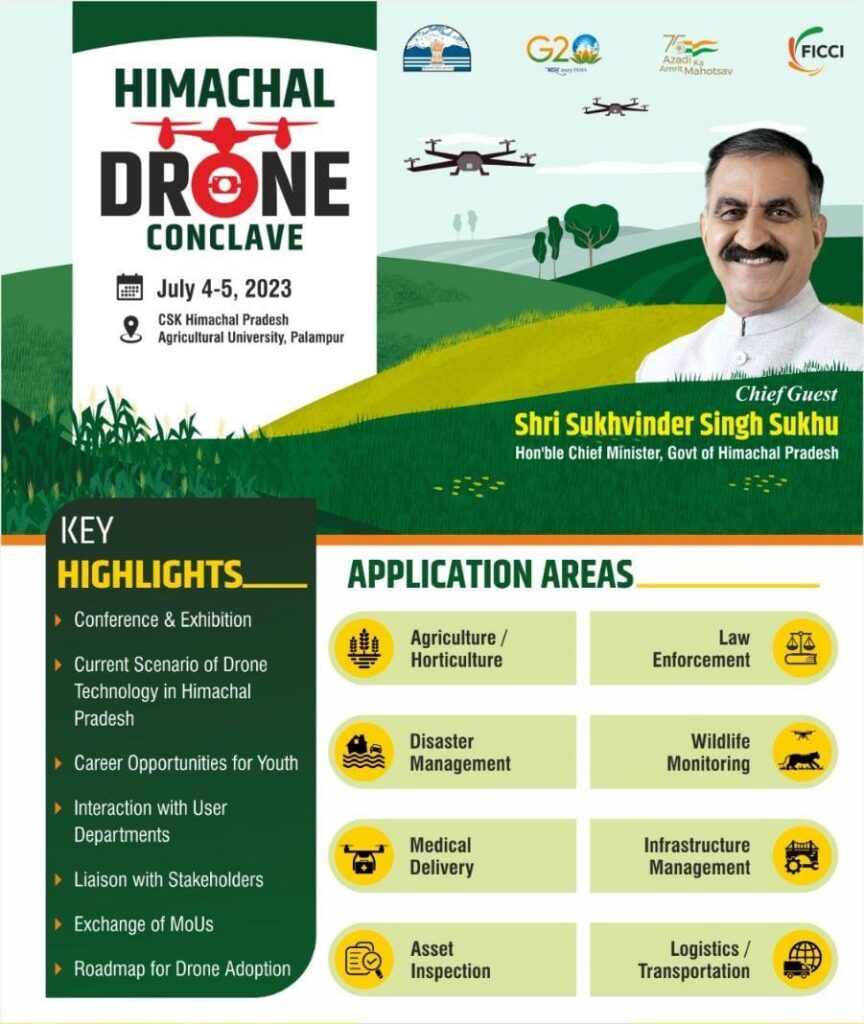 # Exploring the Transformative Potential of Drones: HP Govt and FICCI join hands for Himachal Drone Conclave 2023
# Shaping the Future of Drone Technology: Himachal Drone Conclave 2023 to be Inaugurated by Hon'ble Chief Minister of HP
[Delhi, July 1, 2023] –
The Himachal Pradesh Government, in association with the Federation of Indian Chambers of Commerce and Industry (FICCI), is pleased to announce the upcoming HIMACHAL DRONE CONCLAVE 2023. This pioneering event will bring together experts, stakeholders, and enthusiasts from the drone industry to explore the transformative potential of drone technology in various sectors. The conclave aims to foster innovation, knowledge sharing, and collaboration in this rapidly evolving field.
The HIMACHAL DRONE CONCLAVE 2023 is scheduled to take place on 4th- 5th July, 2023 (Tuesday & Wednesday) at Chaudhary Sarwan Kumar Himachal Pradesh Agricultural University (CSKHPKV) in Palampur, Himachal Pradesh. The programme will commence at 09.00 AM and continue until 05:30 PM.
The conclave will be inaugurated by the esteemed Chief Guest, Shri Sukhvinder Singh Sukhu, Hon'ble Chief Minister of the Government of Himachal Pradesh. Speaking about the event, Sh. Gokul Butail, Principal Advisor (IT and Innovation), Government of Himachal Pradesh, shared his thoughts, stating, "We are honored to host the HIMACHAL DRONE CONCLAVE 2023 and have FICCI partnering with the State for the event. This event is a significant step towards harnessing the immense potential of drone technology in our State. We envision this conclave to be a platform for knowledge exchange and collaboration, enabling us to explore innovative drone applications for the benefit of various sectors."
The HIMACHAL DRONE CONCLAVE 2023 will witness insightful panel discussions, engaging presentations, exhibition and live demonstrations showcasing the latest advancements in drone technology. Attendees will have the opportunity to interact with industry experts, government officials, researchers, and professionals from diverse backgrounds, fostering a conducive environment for networking and collaboration.
With the objective of promoting the utilization of drones in diverse domains such as agriculture, disaster management, healthcare, infrastructure, and more, this conclave aims to generate awareness about the transformative capabilities of drones and their potential to revolutionize industries.